EVENTS CALENDAR 2017
---
JANUARY
14th Saturday. Dojo opens. 10am Meditation. 10.30am General Class – all students.
15th Sunday. Normal timetable resumes.
No Lunchtime Classes until 23rd January
No Friday Classes until 27th January
No children's Classes until School Starts
21st Saturday. Kagami Biraki. 6am class. Please bring shared breakfast for after class. All students welcome.
30th Monday. Dojo closed for Nelson Anniversary Day.
---
FEBRUARY
6th Monday. Dojo closed for Waiting Day.
8th Wednesday. Childrens' classes resumes. 3:40pm.
26th Sunday. Beach Training. At Tahuna Beach (near the Beach Cafe). 10:30am. All students and families welcome. We train in the water so please bring change of clothes. Bring a picnic and join the fun.
---
MARCH
10th Friday – 12th Sunday. Teapot Vally Camp. Click here for information and booking form.
25th Saturday. General Promotion. 9:00am.
---
APRIL
14th Friday. Good Friday. Dojo closed.
17th Monday. Easter Monday. Dojo closed.
14th Friday – 30th April. School Holidays. No children's classes.
25th Tuesday. ANZAC Day. Dojo closed.
---
MAY
1st Monday. Children's classes resume.
---
JUNE
---
JULY
10th Monday – 22nd Friday. These Children's classes will NOT be on during School Holidays: Mon 3:40, 4:30. Tue 4:30. Wed 3:40. Thur 3:40, 4:30. Fri 4:00, Junior sparing.
---
AUGUST
26th Saturday. Nelson Seido Karate Inter-Dojo Junior/Teen Tournament. 10:30, Stoke Dojo, Broadgreen Intermediate School Hall, Nayland, Stoke. Download info and registration forms here.
---
SEPTEMBER
16th Saturday. General Promotion. 9:00am.
---
OCTOBER
---
NOVEMBER
---
DECEMBER
---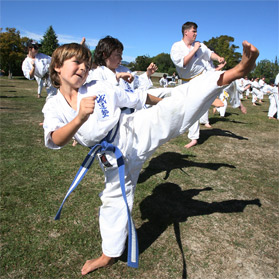 FREE
Introductory lesson
at no obligation.
You are welcome to come and observe.
The first lesson is free.
There is a beginners "Start up Pack" available that includes a uniform.