EVENTS CALENDAR 2021
---
September 2021
8th Wednesday. Classes begin under Level 2 restrictions.
Maximum of TEN student only – Book by phone. Masks MUST be worn when entering the Dojo but are optional when training.
Children's classes need to be pre-booked.
---
October 2021
25th Monday. Labour day. Dojo closed. Normal classes Saturday and Sunday.
30th Saturday. Nidan Promotion. 1:30pm. Black Belts please support. Masks must be worn unless sparring.
---
November 2021
---
December 2021
---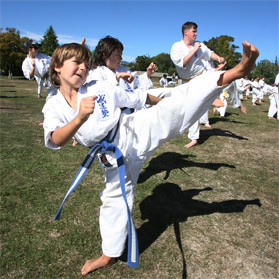 FREE
Introductory lesson
at no obligation.
You are welcome to come and observe.
The first lesson is free.
There is a beginners "Start up Pack" available that includes a uniform.