EVENTS CALENDAR 2018
---
January 2019
12th Saturday. Dojo opens. General Class only. All welcome. 10:30.
19th Saturday. Kagami Biraki. 6:00am. All student welcome. Please bring a shared breakfast for after class.
---
February 2019
7 th Thursday. Children's/Junior Classes resume. 3:40/ 4:00/ 4:40pm.
---
March 2019
1st Friday – 3rd Sunday. Teapot Valley Camp.
---
April 2019
---
May 2019
---
June 2019
---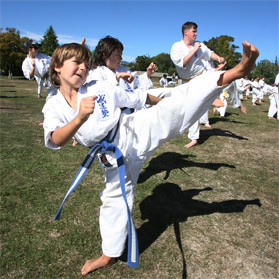 FREE
Introductory lesson
at no obligation.
You are welcome to come and observe.
The first lesson is free.
There is a beginners "Start up Pack" available that includes a uniform.