EVENTS CALENDAR 2018
---
JANUARY 2018
13th Saturday. Dojo opens. 1 class at 10:30am. All students welcome.
14th Sunday. Normal classes. 10:00am and 11:00am.
20th Saturday. Kagami Biraki. 6:00am. All students welcome. Please bring a shared breakfast. Followed by Kata Class 10:30am and Sparring 12 Noon.
29th Monday. Dojo closed for Nelson Anniversary Weekend.
---
FEBRUARY 2018
6th Tuesday. Dojo closed for Waitangi day.
7th Wednesday. Children's Classes resume3:40pm.
18th Sunday. Beach Training. 11.00am. Tahunanui Beach. All students welcome.
---
MARCH 2018
9th Friday – 11th Sunday. Teapot Valley Camp.
24th Saturday. General Promotion.
30th Friday. Dojo closed for Good Friday. Normal timetable Saturday & Sunday.
---
April 2018
2nd Monday. Dojo closed for Easter Monday.
16th Monday. School Holidays. No junior or children's classes.
25th Wednesday. Dojo closed for ANZAC Day.
---
May 2018
30th Wednesday. 6:30pm. Special class to celebrate Hanshi's 70th Birthday. ALL Students and Families welcome. Be at Dojo before 6:30pm in your Gi. Any questions contact Sei Shihan Stephen at Stoke Dojo or Kyoshi Sharlene at Nelson Dojo.
---
June 2018
Queen's Birthday Weekend. Normal classes Saturday & Sunday.
4th Monday. Dojo closed. Happy Birthday Hanshi.
---
July 2018
---
August 2018
---
September 2018
---
October 2018
---
November 2018
---
December 2018
---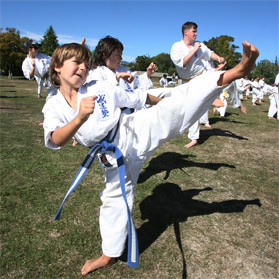 FREE
Introductory lesson
at no obligation.
You are welcome to come and observe.
The first lesson is free.
There is a beginners "Start up Pack" available that includes a uniform.