Welcome to the Nelson dojo
The Nelson training hall, called the dojo or Shibu, is in the hall behind Old St John's Church at 320 Hardy Street.
There is a schedule of classes from Tuesday to Saturday. See timetable.
There is an adult beginner class at 5:30pm Tuesdays.
A 5-8 years Super Kids class is at 4:00pm Wednesdays.
Older children's classes are at 4:00pm Tuesdays and Thursdays.
The dojo's head instructor is Sei Shehan Aaron Barber. He is supported by other senior Black Belts.
Head instructor
Sei Shihan Aaron Barber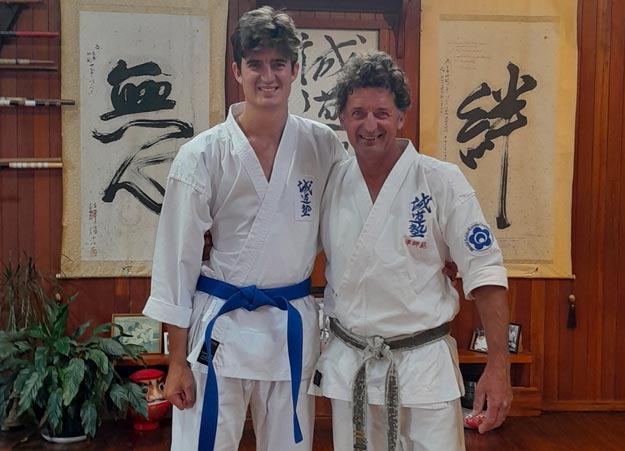 Aaron Barber was born in Christchurch and moved to Nelson at an early age when his parents Andy and Pam Barber open the first karate school on Parere Street. At the age of eight Aaron began training along with his seniors and was the youngest person at that time (in 1985) to receive his first-degree black belt (Shodan) in both New Zealand and Australia.
Karate was just a part of life for Aaron as the proud son for the world renowned Ekio Hanshi Andy Barber. Both his parents trained in Seido Karate and his grandfather Sensei Jack Gibbons and uncle Senpai Wayne Gibbons both trained in Kyokushin Karate.
At the age of 19 Aaron trained and taught extensively in New York under the grandmaster of the World Seido Karate organization Kaicho Tadashi Nakamura. Since then, Aaron has enjoyed teaching, training, and competing in several local and international tournaments. He was the proud recipient of Sogo (overall grand champion) in 1998.
Today Aaron holds the title of Sei Shihan (6th degree black belt) and feels that Seido Karate should continue to be available to everyone while maintaining and upholding the standards and traditions that are fundamental to this practice.

About Seido Karate, its history and origins.
Click here