Hanshi Andy
Born in Wellington in 1948, Hanshi Andy started Karate as a teenager in the mid 1960s. In 1967 he traveled to Japan to train at the Kyokushinkai Honbu Dojo in Tokyo under Master Oyama.
Even though the everyday training was gruelling and often brutal, Hanshi Andy topped the training attendance record and was awarded Shodan Black belt by Master Oyama. He returned to New Zealand with fellow New Zealander Mr John Jarvis. Together they toured the country giving demonstrations and newspaper and TV interviews on this then little known, mysterious oriental art.
Hanshi Andy had considerable success in tournaments both in NZ and Australia and in 1975 captained the New Zealand team to the 1st World Karate Championship in Tokyo.
After meeting Kaicho Nakamura, Hanshi opened his own Dojo in Nelson in 1974. Hanshi Andy reflects on this time – "Hanshi Renzie (of Christchurch) and I invited Kaicho to New Zealand. I had met and seen karate masters in Japan but on meeting Kaicho for the first time I suddenly realized what karate was about. Here was this powerful man with awesome ability the likes of which I had never seen before. But with it Kaicho had such a gentle, sincere and humble manner. It was so inspiring that I decided I wanted to do Karate full-time. So I left my job at a publishing company in Christchurch, sold my house and moved with my family to Nelson. I bought an old factory and gradually it turned into the beautiful dojo we have today."
Since the founding of Seido Karate in 1976 Hanshi Andy has travelled regularly to New York to train with Grandmaster Nakamura. Andy Barber was promoted to Hanshi 8th Dan (Chief Master) level in 2008 along with Hanshi Charles Martin of New York and Hanshi Renzie Hanham of Christchurch. These three gentlemen are the highest graded students in Worldwide Seido Karate.
Hanshi Andy is a Justice of the Peace and has taught Government training programmes for more than 10 years, motivating hundreds of people towards worthwhile life opportunities.
Hanshi Andy is married to Sei Shihan Jane Barber (the most senior Seido Karate woman outside the USA) and they have 4 children and 6 grandchildren.
In 6 June 2016 Hanshi Andy Barber received the Queen's Service Medal for services to karate and the community.
Download the Wild Tomato magazine interview with Hanshi Andy (4.2MB PDF)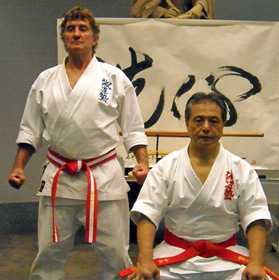 Hanshi Andy and World Seido Karate leader 9th Dan Kaicho Tadashi Nakamura